Customer Database
Your customers are integral to your business. You want them to be happy and not to be hampered by software.
View Invoices, Account Balance, Receive Payments, and more
Customers can view all documents, account balance, pay you, and even request an update of their details, all from an easy interface.
Your customers can view all documents, their entire history, account balance, from an easy to use interface. They can pay you with 2 easy clicks if you use one of our payment gateways. They can even request an update to their information, which you need to approve of course.
Customer Management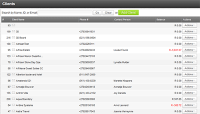 Client management is a breeze with our optimised layout, and at-a-glance interface.
Manage your clients easily and efficiently. View their balances, send them statements, emails, and much more, from a single page, with just a click or 2.