Premium SSL Encryption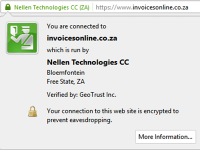 What our SSL Extended Validation Certificate looks like in Firefox.
We take security seriously, that's why we use a
High-grade Encryption (Camellia-256, 256 bit) SSL EV Certificate
, the exact same certificate that banks are required to use. This ensures that all communication between our servers and your browser is secure and encrypted, and no one is listening in. Always ensure there's a green section in the address bar when visiting our site, it verifies that you are connect to us securely.
We furthermore use high quality strong passwords using uppercase and lowercase characters, numerals, and special characters, and always ensure minimum length of 12.
Private Dedicated Servers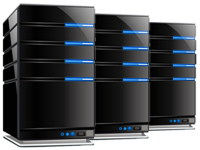 Private dedicated servers.
To further protect your data, we host Invoices Online on dedicated servesr owned by us, and which is not shared with any third party sites. Our code additionally runs on an offline development server, and all code is fully tested before being loaded on the live servers. Our servers are currently located in the
Hetzner data centre
located in Samrand, Gauteng, a state of the art facility connected to the internet via redundant fiber networks - we host locally to ensure the fastest possible speed.
The data centre has very high levels of security, such as access control and 24/7 monitoring.